Eric Arthur Blair was a writer of strong opinions that focuses his works on political movements like: imperialism, fascism, etc…, when he was a little kid was forced to move from India to England, there he made the school, in this place he notice how the society was divide in different social classes, also he notice that the rich people was treat better than the poorest,  because of the bad economic situation of his parents he can't continue his studies, based on this experience of life and in how the culture of the rich English people can hurt the feelings of others he wrote a book called "Down and out in Paris and London".

I take into example the book of Arthur to show the strong interaction between the culture and the literature also another examples can been in "Animal Farm" where we see the impact of Rudyard Kipling having in a certain way elements of children's literature in this book we also notice the critic to the Soviet culture or in "Nineteen eighty four" where  the government and politics control all even our private life and in some way our thoughts we evidence the influence of HG Wells being a fictional book.

All of the writings of Blair involves the language, Eric was expert using the language of criticism, in most of his works he show what he think about it and critic the politic aspect also he shows how the government manage our lives, the following quote describe perfectly what I want to say "Political language is designed to make lies sound truthful and murder respectable" George Orwell. I admire so much the work of Arthur and I truly believe that the books are one way to change the perspective of the world.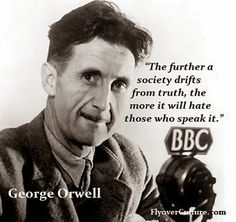 Posts

: 4


Join date

: 2017-02-26




---
Permissions in this forum:
You
cannot
reply to topics in this forum